West Pedestrian Building, U.S. San Ysidro Land Port of Entry
San Diego, CA
 A single-story, 22,300 sf building to house Administration, Inspection, and Repatriation (Sally Port) areas. The structural system for the building consists of fully grouted reinforced masonry walls, structural steel framing, open web steel joist/steel wide flange joists, and a steel roof deck… 
Pacific Highlands Ranch Community Park
San Diego, CA
The cornerstone of the new 13.5-acre park is a 17,000-sf recreation center with a gymnasium, multi-purpose building, and an enclosed patio.  Other park amenities feature 5 acres of multi-use sports fields, children's play and discover areas, an outdoor basketball court, a dog park, and alternative recreation opportunities such as…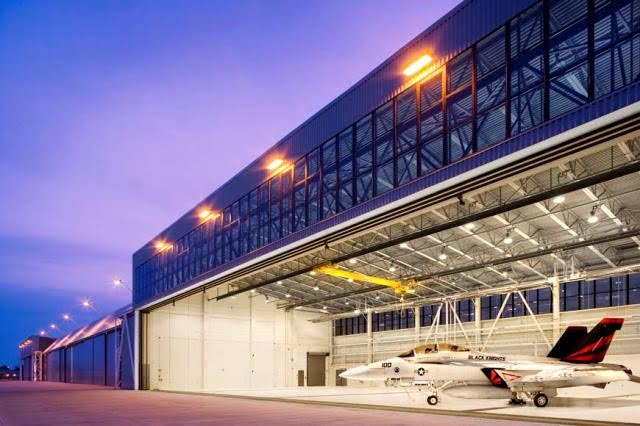 Aircraft Hangar, Naval Air Station Lemoore
VADM Edward H. Martin Fitness Center
Naval Air Station North Island (NASNI)

Coronado, CA
Design-build project for a new 107,000 sf structure to house a physical fitness facility, a liberty center, and an outdoor pool area. The center features a gymnasium with spectator seating, exercise spaces, administrative spaces, a computer area, game room, TV lounge, mini-theater, and multi-purpose room…
Weapons Training Battalion BEQ
Marine Corps Base

Quantico, VA
Structural engineering design and modeling services were provided for this three-story Georgian Style 77,500 gross sq. ft. Bachelor Enlisted Quarters (BEQ). The structural system consists of conventional reinforced concrete footings which are supported by exterior/interior CMU walls and isolated spread (pad) footings support the interior…
Center for Naval Aviation Technical Training Complex (CNATT)
MCB Camp Pendleton, CA
Provided comprehensive structural engineering services for this 131,000 square foot CNATT training complex for Huey and Cobra Helicopter operations and maintenance. The complex consists of two separate buildings – a hangar bay and an instructional / administrative facility, plus an adjacent parking structure.
Guest House, Fort Buchanan Army Base
Energy Investment Projects Repair Projects, Marine Corps Air Station (MCAS) Miramar
San Diego, CA
The project involved mechanical and electrical upgrades to eight buildings, including the replacement of heating ventilation units, condensing units, VAV boxes, packaged AC units, heat pump package units, as well as some antiterrorism force protection (AT/FP) design elements.